Botanical Hydration Body Mist ALL SIZES ON SALE!!!!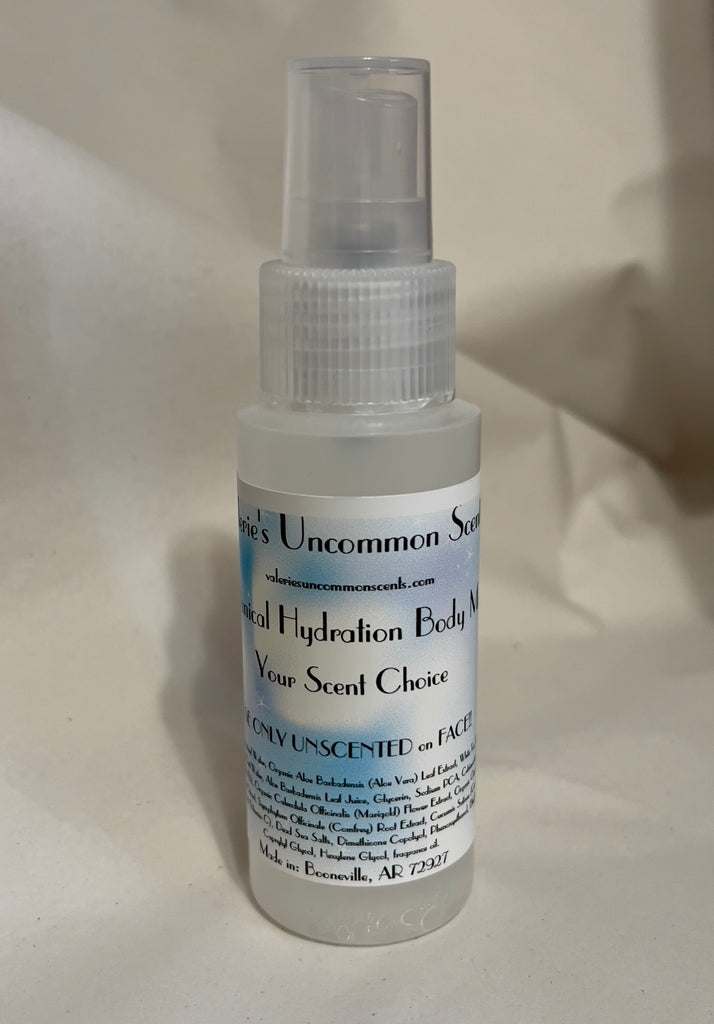 SALE
Botanical Hydration Body Mist
Sizes available: 1oz sample, 2oz & 4oz in plastic bottles 

Says goodbye to dryness and hello to moisture! Enriched with Aloe Vera and Botanical Extracts, which are rich in protein building blocks, help nourish and condition your skin and hair. This unique formulation is lightweight, oil-free and contains NO alcohol to burn, irritate or dry skin
. 
USE ONLY UNSCENTED for FACE!!
This product is lightly scented 



I don't recommend scented product for the face.
Apply to entire body, including face & hair to leave a soft, smooth & silky feeling.
Ingredient Benefits:



Sodium PCA
i
s a highly water absorbent derivative of amino acids. It is hygroscopic meaning it absorbs moisture from the air.

Cucumis Sativa (Cucumber) Fruit Extract
cleanses skin, improves skin tone, and can increase circulation.

Chamomilla Recutita (Chamomile) Flower Extract
soothes dry skin and promotes healing of skin irritations, sunburns, rashes, minor cuts, scrapes, and burns.

Calendula Officinale (Marigold) Flower Extract
has shown many benefits in research studies including being anti-peptic, antibacterial, antifungal, and anti-allergenic activity.

Synphytum Officinale (Comfrey) Extract
is a cell proliferant, soother, and healer.
Comfrey contains a substance called Allantoin, a powerful soothing agent that promotes the growth of new skin cells.

Aloe Barbadensis Leaf Extract
is said to improve the skin's ability to hydrate itself, aid in the removal of dead skin cells, and help protect and rebuild your skin
.

Pro-Vitamin B5
firms the skin, reducing the amount of water lost. In addition, it is a humectant, meaning it attracts and retains water. This makes it an ideal ingredient to hydrate the skin and hair.

Dead Sea Salts with 84 trace minerals enrich the formula.
At first spray this base has a slight smell that goes away, leaving you smelling great!
Lightly scented in the scent of your choice!



Ingredients: Deionized Water, Organic Aloe Barbadensis (Aloe Vera) Leaf Extract, White Tea Extract, Vanilla Planifolia (Vanilla) Fruit Water, Aloe Barbadensis Leaf Juice, Glycerin, Sodium PCA, Cetrimonium Chloride, Panthenol (Pro-Vitamin B5), Organic Calendula Officinalis (Marigold) Flower Extract, Organic Chamomilla Recutita (Chamomile) Flower Extract, Symphytum Officinale (Comfrey) Root Extract, Cucumis Sativus (Cucumber) Fruit Extract, Ascorbic Acid (Vitamin C), Dead Sea Salts, Dimethicone Copolyol, Phenoxyethanol, Ethylhexylglycerin, Caprylyl Glycol, Hexylene Glycol, fragrance oil